Comfort Zones & Hopes - Zona de Confort y Esperanzas
Hola Fashionist
It's time for a little life update!
This year has been a very good and interesting year for me, I had my second child in April and I also quit my job that I had for 10 years. Been there since I was 19. The reason I wanted to share this is not to talk about my job, but to give a little hope to those who fear to leave that comfort zone like I did. I lasted that long because I was scared to leave my comfort zone, I was working and getting paycheck theres nothing wrong with that, and aside from my feelings towards other reasons why I wanted to leave, I also always wanted more and I knew that. If i didn't leave the comfort zone nothing was going to change. I prepared mentally, emotionally and economically for this leap. I felt like it was time to move on and most importantly my husband understood how unhappy I was and supported me all the way. These factors played a big part because I have a family and all I want is for them to be safe and happy. Cutting to the chase, quitting was the hardest and scariest thing for me, at the moment at least because every bad or negative though crossed my mind like what if I never found a good job or the savings run out but i knew deep inside my reasons for leaving where bigger than any worry and I believe so much on myself at that moment that nothing could have changed my mind it was like i needed to be set free. So I did it and after I felt relieved and sad, I lasted 10 year it was all I knew but something deep inside told me it was all going to be ok, it was time and it was ok. When my son turned 5 months I started slowly searching for work and that worry creeped on me again but I kept my faith. Fast forward to today I have a new job and I have not been happier. This showed me that no fear is bigger than what I am capable of and always believe in myself.
"There is nothing stronger than a confident person"
____
¡Es hora de una pequeña actualización de mi vida!
Este año ha sido muy bueno e interesante para mí, tuve mi segundo hijo en Abril y también renuncié a mi trabajo que tenía desde hace 10 años. Estuve allí desde que tenía 19 años. La razón por la que quería compartir esto no es para hablar de mi trabajo, sino para darles un poco de esperanza a aquellos que temen abandonar esa zona de confort como yo. Dure tanto porque tenía miedo de abandonar mi zona de confort, estaba trabajando y recibiendo el sueldo. No hay nada de malo en eso, y aparte de mis sentimientos hacia otras razones por las que quería irme, también siempre quise más y lo sabía. Si no abandonara la zona de confort, nada iba a cambiar. Me preparé mental, emocional y económicamente para este salto. Sentí que era hora de seguir y, lo más importante, mi esposo comprendió lo infeliz que me sentía y me apoyó durante todo el proceso. Estos factores jugaron un papel importante porque tengo una familia y todo lo que quiero es que estén seguros y felices. Dejando de hablar tanto renunciar fue lo más difícil y aterrador para mí, al menos en este momento porque todo lo malo o lo negativo cruzó por mi mente como que tal si nunca encuentro un buen trabajo o si se me acaban los ahorros, pero sabía por dentro mis razones por irme eran más grande que cualquier preocupación y creo tanto en mí que en ese momento nada podría haber cambiado mi opinión, era como si tuviera que ser liberada0. Así que lo hice y después me sentí aliviado y triste, duré 10 años, era todo lo que sabía, pero algo en el fondo me dijo que todo iba a estar bien, que era hora y que estaba bien. Cuando mi hijo cumplió 5 meses, comencé a buscar trabajo lentamente y esa preocupación se apoderó de mí nuevamente, pero mantuve mi fe. Un avance rápido hasta hoy tengo un nuevo trabajo y no he sido más feliz. Esto me mostró que ningún miedo es más grande de lo que soy capaz de hacer y siempre creo en mí misma.
"No hay nada más fuerte que una persona segura de sí misma"
Life is not easy as maybe I sound trust me I know, but I know that everything gets better and the main thing we need to do its believe in ourselves and our abilities. There is nothing stronger than a confident person.
____
La vida no es fácil, ya que quizás parezca, lo sé, pero sé que todo mejora y lo principal que tenemos que hacer es creer en nosotros mismos y en nuestras capacidades. No hay nada más fuerte que una persona segura de sí misma.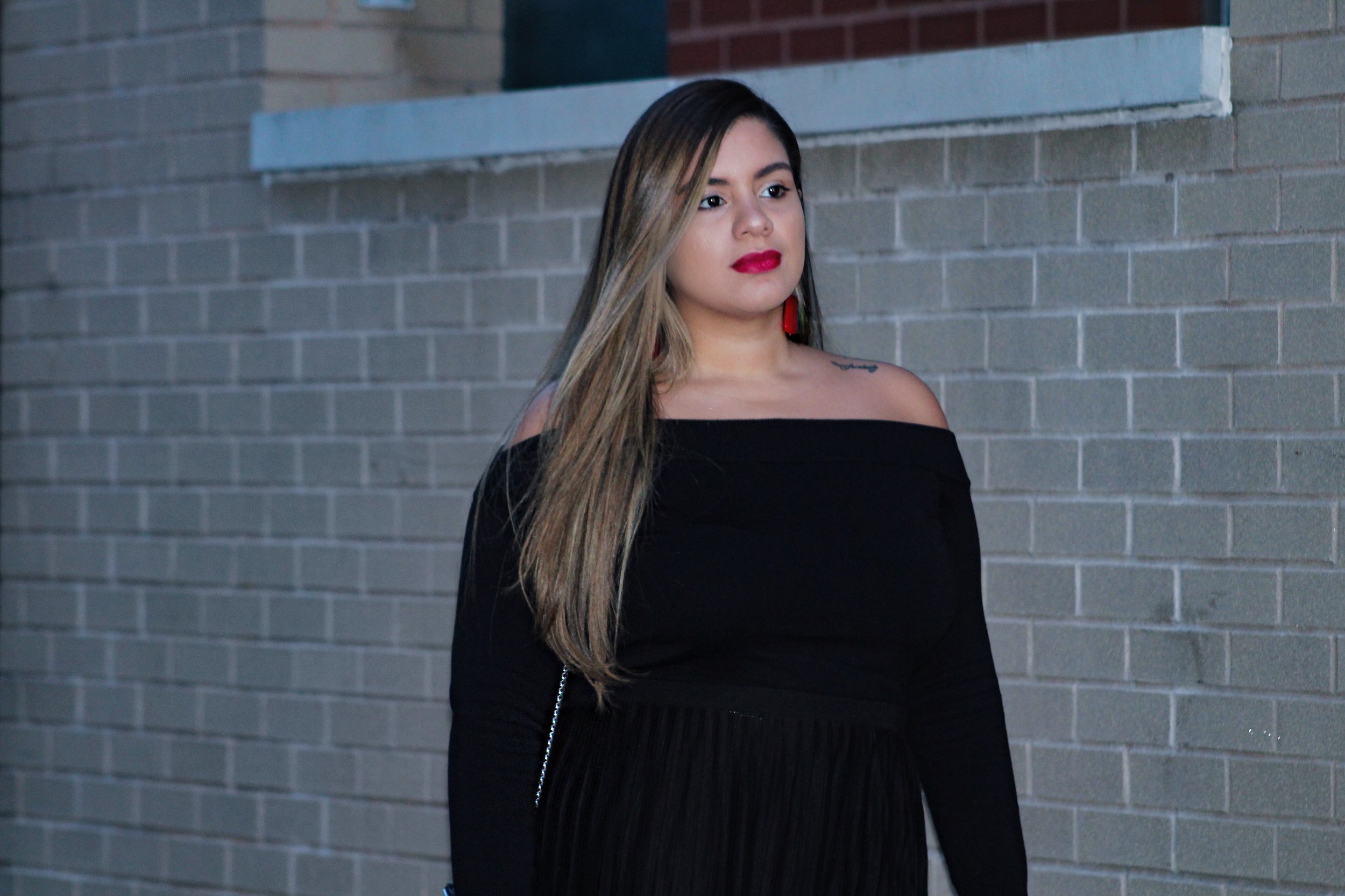 A side from my life update this look as been my favorite so far this fall because this bell sleeved top I want to wear with everything. It looks like a dress but its a top & skirt.
____
Aparte de mi actualización este look a sido mi favorito hasta ahora este otoño porque esta blusa con manga acampanada me la quiero ponerme con todo. Parece un vestido, pero es un top y una falda.
I hope that I have inspired you to do more every day to achieve whatever goal you have no matter big or small, its worth it, YOU ARE WORTH IT! thanks for reading!
____
Espero que te haya inspirado a hacer más todos los días para alcanzar cualquier objetivo que tengas, grande o pequeño, vale la pena, ¡TU LO VALES! ¡gracias por leer!